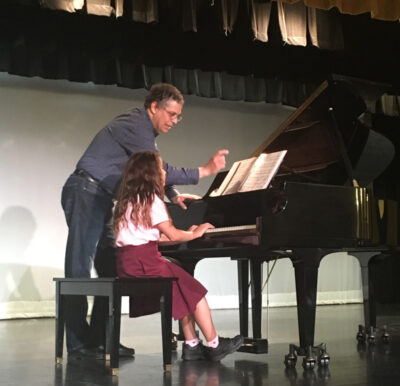 Master Class – October 2, 2018
Concert – Leonel Morales is one of the most sought-after concert pianists of his time, pays tribute to his roots at an exclusive concert on Monday, October 1, 2018 at 7:00 p.m. at the Rosita Segovia Theatre at Conchita Espinosa Academy. In honor of Hispanic Heritage Month, performed works by some of the great Spanish and Cuban masters, from Albéniz and Soler to Cervantes and Lecuona.
Morales' virtuosity and ability are second to none. He has won some of the most important prizes in the piano world, including the First Prize in the Guerrero Foundation International Piano Competition (Madrid), Second Prize at Jaén International Piano Competition with special recognition for "Best Interpretation of Contemporary Music" and the Rosa Sabater prize for "Best Interpretation of Spanish Music," and First Prize in the International Piano Competition "Teresa Carreño," (Venezuela) among others.
Morales graduated from the University of Havana, where he studied under Frank Fernandez, a student of renowned Russion professor Victor Merzhanov, establishing him in the Russian piano tradition. He is on the music and performing arts faculty at the "Alfonso X el Sabio" University (Madrid, Spain), Sommerakademie Mozarteum (Salzburg, Austria), and has been on the faculty of the Conservatorio Superior of Castellón (Valencia, Spain) for thirteen years.
Morales' vast international experience and global following make him one of the most admired artists of his time. He has performed in some of the most important concert halls in the world, including the Weill Recital Hall of Carnegie Hall in New York City, and toured with prominent orchestras, including the Spanish National Orchestra, Spanish Radio and TV Orchestra, Virtuosos Orchestra of Berlin Philharmonic, Royal Philharmonic of Galicia, Symphonic Orchestra of Bilbao, the Symphonic Orchestra of Hamburg, Frankfurt-Oder Orchestra, and RAI National Orchestra of Turin, among others.
While on tour with the Spanish National Orchestra, The Washington Post praised his "…extraordinary interpretation and power."
In Germany, critics declared him the "hero of the night." "…He played the piano with elegance, discipline and intelligence. After the frantic applause, Morales offered three pieces out of the program: 'Malagueña' from Ernesto Lecuona, 'Danza' from Ignacio Cervantes and one waltz from Chopin in which he showed again his brilliant technique" (Die Rheinpfalz).