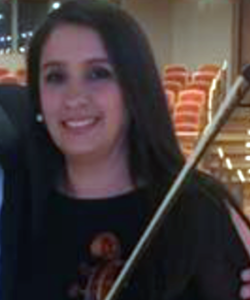 Violin
Wendy Ocando, a native of Venezula, began studying music in 1977 with Oswaldo Guenara, Jesus Hernandez, Martin Vielma and Hugo Filohia. She formed part of the National System of Orchestras and Choirs for Children and Adolescents of Venezuela, "El Sistema," with whom she participated in various concerts and seminars with world-class musicians, including Jordi Mora, Rini Rogoff, Maurice Hasson and Florian Ebersberg. She furthered her studies of violin and chamber music at the National School of Music in Pantin (Paris, France) under the tutelage of Genevieve Simonot, principal violinist at the Orchestra Opera of the Bastille and professor at the National Conservatory of Paris.
From 1990 to 2016, Ms. Ocando played first violin in the Aragua Symphony Orchestra, which whom she performed in Aruba, Martinique, and the Canary Islands. From 1991 to 2006, she performed with the University of Carabobo Chamber Orchestra. From 1994 to 1996, Ms. Ocando toured France with the International Orchestra of Paris (Croux) and from 1990 to 1998 she formed part of the Cuerto Asai Chamber Music Ensemble, with whom she participated in the International Chamber Music Festival in Colonia Tovar, Venezuela and performed both within Venezuela and internationally. Currently, Ms. Ocando forms part of the Florida Chamber Orchestra and Miami Symphony Orchestra (MISO).
As an educator, Ms. Ocando spent 32 years as an itinerant professor of "El Sistema" in Venezuela. During this time, she taught at various conservatories including Guárico, Aragua, Calabozo, Amazonas, Colonia Tovar, San Vicente, Turmero, Cagua, La Victoria, and Maracay. She worked with children of all ages, including children with disabilities. From 2005 to 2011, she traveled to Trinidad and Tobago to teach summer courses to children and adolescents, and aided the children in composing their own musical montages. In Miami, she has taught at Terra High School, Arvida Middle School, and Coral Reef Senior High School, as well as a private music tutor. Ms. Ocando has been on the music faculty at Conchita Espinosa Academy and Conchita Espinosa Conservatory of the Arts since 2018.