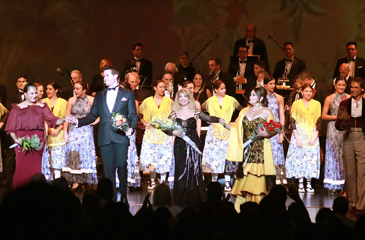 Sunday, September 15, 2019, 5:00 p.m.
Miami-Dade County Auditorium
Musical Director:
Marlene Urbay

Guest Artists:
Eglise Gutierrez, soprano
Peter Alexander Rivera, tenor
Marisol Moreno, Spanish dancer and choreographer
Cristina Masdueño, Spanish dancer
Raul Salcedo, Spanish dance
Segovia Ballet Español

On September 15th, the Spanish dance department performed alongside the Florida Chamber Orchestra in their concert, Aires de España, directed by Conservatory Music Department Head, Maestro Marlene Urbay, featuring music by some of the most prominent classical Spanish composers, such as Falla, Albeniz, Breton, Geronimo Gimenez, Lecuona, Debussy, as well as highlights from Spanish Zarzuelas and flamenco. The dancers in Segovia Ballet Español and the Spanish Dance Ensemble did a phenomenal job interpreting some of the most beautiful music from Spain. Marisol Moreno, Spanish dance department head, Cristina Masdueño, Conservatory Spanish dance teacher, and Raul Salcedo, guest teacher at CEC, were featured artists in the concert, which took place at Miami-Dade County Auditorium. It was a true honor for our students to not only share the stage with three of their teachers, but with such seasoned and professional artists.